Our History
In 1923, when the population of Chilliwack numbered about 3,000, Rev. V.L. Meyer began work here. Traveling from Vancouver, he brought the Word of God to a little group of Lutherans ... just four people to start. By the end of the year, the number had grown to 20 people and services were conducted in the member's homes. In 1930, Candidate A.H. Haake took over the work in the valley. In addition to Chilliwack, Rev. Haake served Lulu Island, New Westminister, Crescent, Cloverdale, South Sumas, Bradner and Hope. Living in New Westminster, he became the founder of Mt. Calvary Church in that city.
Rev. Haak's faithful efforts were blessed by God, so that by 1935 the congregation at Chilliwack numbered 70 souls. In that year, Chilliwack received its first resident pastor, Rev. R.F. Holtzen. Records show that at one time, Pastor Holtzen served as many as 16 congregations and preaching stations at the same time.
On the May 8, 1938, this congregation organized itself with it's first constitution and bylaws. In January 1944, a lot on the corner of Princess and Mary Streets in downtown Chilliwack was purchased for $630. That building served the congregation well until 1990, when the cramped quarters prompted the congregation to look for a large church home.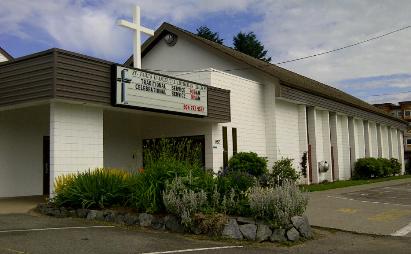 Then Lord brought forward a very unique opportunity. The Royal Canadian Legion owned a large building on School Street - a building that had originally been constructed as a church by the Glad Tidings congregation. The Legion was suffering from declining membership and could no longer afford such a large facility. The Legion needed a smaller building - St. Paul's congregation needed a larger building. It seemed an ideal solution so, on July 1, 1990, moving trucks arrived at both the church and the Legion buildings and the great building swap began. A major renovation project in 2009 significantly increased our narthex (entrance way) and provided an area for socializing and small group meetings.
The blessings of a larger building and improved facilities for worship, study and fellowship better meet the needs of a growing congregation of about 250 members in Chilliwack and Hope. Outreach opportunities abound as we work together to bring the precious Word of God to our communities.